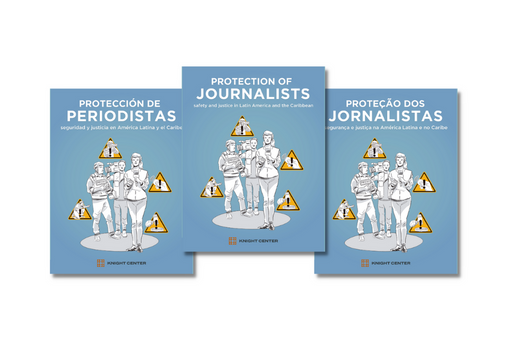 Download (free) a multilingual e-book on the safety and protection of journalists in Latin America and the Caribbean
[ad_1]
The Knight Center for Journalism in the Americas has released a new e-book on the safety and protection of journalists in Latin America and the Caribbean.
"Protection of Journalists: Safety and Justice in Latin America and the Caribbean" is the product of eight months of articles originally published in the Knight Center for Journalism in the Americas' digital magazine, LatAm Journalism Review. The e-book, which was funded by UNESCO's Global Media Defense Fund, can be downloaded for free in English, Spanish or Portuguese from the JournalismCourses.org digital library.
The e-book is a compilation of 14 stories that were published from December 2021 to July 2022, and focused on four major topics:
Coverage of protests
Reporting on violent conflict
Development of protection mechanisms for journalists
Investigations and prosecutions of violence against journalists
The e-book features country case studies and never-before-seen details of violence targeting media professionals. It also includes guides on how to stay safe while reporting on protests and violent conflict. And, it examines delays in putting systems in place to protect journalists, as well as loopholes in offices meant to prevent impunity.
The authors dive deep into countries like Bolivia, Guatemala, El Salvador, Honduras and Mexico, but also include examples of affected journalists in Chile, Brazil, Colombia, Ecuador, Nicaragua, Peru and Mexico. Venezuela. The lessons and case studies, however, can be applied to countries across the region.
"Throughout the 21st century, the situation of the press in Latin America has deteriorated," said Javier Garza, Mexican journalist and editor of the project, in the introduction to the e-book. "If in the last years of the last century it was thought that democratic openness and technological innovation would bring a new climate of freedom of expression, in recent years the rise of organized crime and authoritarian regimes has created new risks ."
"To deal with this, journalists and authorities have tried to create different tools to improve the safety of journalists," Garza continued. "In this e-book, we have undertaken to survey these attempts, carried out on different fronts: newsrooms, collectives of journalists, media associations, governments or prosecutors. And it is the journalists themselves who tell us about their experiences.
The e-book was edited by Garza, an expert in security issues affecting the media, and coordinated by Teresa Mioli, Knight Center program coordinator. The articles were written by members of the LatAm Journalism Review team, as well as journalists from Latin American media outlets and journalists' organizations.
The special illustrations that accompanied the project were created by Pablo Pérez of Altais Comics, based in Medellín, Colombia.
"We hope our work will help journalists and editors with useful information about the safety of journalists in the Americas and the issue of impunity," said Professor Rosental C. Alves, founder and director of the Knight Center, in the e-book prologue. "We also hope that this e-book will become a reference for organizations and individuals concerned about the safety of journalists in the Americas and beyond, at a time when the free press is under unprecedented attack."
[ad_2]
Source link