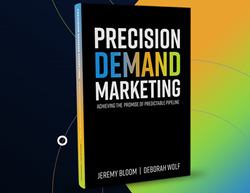 Integrate Publishes Precision On-Demand Marketing Book to Address Today's Critical B2B Buying Shifts
[ad_1]
This fast-paced book is the one you want all the marketers and business leaders you work with to read. – Leslie Alore, Global Vice President, Growth Marketing, Ivanti.

BOSTON (PRWEB)
August 08, 2022
Integrate, the leader of Precision on-demand marketing (PDM) announced today at B2B Sales and Marketing Exchange (B2BSMX)the launch of his new book, Precision On-Demand Marketing: Delivering on the Promise of a Predictable Pipeline, authored by Jeremy Bloom, co-founder and CEO of Integrate, and Deb Wolf, CMO of Integrate. The book offers a hands-on, hands-on approach to adopting a buyer-centric, omnichannel precision demand marketing strategy that enables marketers to find and attract ideal buyers, wherever they are. find, just when they are ready to buy.
"This fast-paced book is the one you want every marketer and business leader you work with to read," said Leslie Alore, Global VP, Growth Marketing, Ivanti. "Brilliant in its practical simplicity, the formula presented here will leave you confident that Precision Demand Marketing is the way to achieve the nirvana of predictable revenue growth combined with a superior customer experience."
Recent research indicates that the B2B buying process has become more digital and complex. McKinsey reports that more than three-quarters of buyers and sellers say they now prefer digital self-service and remote human engagement over face-to-face interactions, a sentiment that has steadily intensified even after lockdowns ended. Meanwhile, Forest reports that the number of interactions needed to make B2B buying decisions jumped 58%, from 17 in 2019 to 27 in 2021, indicating a new level of attention and due diligence for shopping during the pandemic.
"Today's B2B world has become infinitely more complex and competitive as our buyers go digital and research independently and across multiple channels," said Jeremy Bloom, co-founder and CEO of Integrate. . "Add to that the current economic uncertainty, and it's clear that B2B marketers can't afford to be less than precise when it comes to connecting with their buyers and achieving their goals."
The book discusses the five principles of Precision Demand Marketing for building a buyer-centric organization: Target, Enable, Govern, Connect, Measure, and Govern.

Target buyers, not just accounts, holistically, not just where they are in the buying process.

Activate an omnichannel experience, meet buyers wherever they are in their sometimes disjointed journeys.

Govern to get all available data right – a marketable database – to orchestrate marketing.

Connect the dots, creating a technology ecosystem that works for the buyer experience, not the marketer experience.

Measure to improve the buyer experience and tie those metrics to business goals and drivers.
"Precision Demand Marketing empowers marketers to operate with an agile, always-on mindset and a focused, account-based approach so they can deliver maximum ROI," said Deb. Wolf, CMO of Integrate. "Our clients include some of the most sophisticated marketing leaders from the world's largest B2B technology organizations, and we're excited to present their insights and advice as they take a precision on-demand marketing approach so that their marketing efforts are successful. the market today.
Integrate the customers and partners presented in the book:

Ryan Adami, Director, Digital Acquisition, DocuSign

David Alexander, SVP, Global Demand Marketing and Operations, F5

Leslie Alore, Global Vice President, Growth Marketing, Ivanti

Heather Berggren, Senior Director, Strategy, Planning and Operations and CMO Chief of Staff, Cisco Secure

Dawn Colossi, CMO, Software AG

Koen De Witte, Managing Director and Founder, LeadFabric

Nicole Fuselier, Vice President, Revenue Marketing, Dremio

Patrice Greene, President and Co-Founder, Inverta

Matt Heinz, President, Heinz Marketing

Bala Kudaravalli, Senior Director, Product Management, C3 AI

Ben Lack, CEO, Interrupt Media

Carrie Palin, Senior Vice President and Chief Marketing Officer, Cisco

Michael Pollack, Executive Vice President, Market Innovation, HG Insights

Jaime Romero, Vice President, Marketing, Fortinet

Lena Waters, Vice President, Global Demand, DocuSign

Jess Weimer, SVP, Revenue Marketing, Podium

Jacqueline Woods, CMO, Teradata

Scott Vaughan, Chief Market Officer, GTM & Marketing Advisor for CXOs & Investors
To learn more about the Precision Demand Marketing book and to order a copy, please read our blog, "Write the Book on Today's Best B2B Marketing Strategy: Precision Demand Marketing», or visit: https://events.integrate.com/precision-demand-marketing-book.
About integration

Integrate activates, governs and measures marketing campaigns across all demand channels. This enables marketers to launch cross-channel shopping experiences, ensure data integrity, measure the impact of their progress, and inform next best investments. Integrate works with high-growth organizations and enterprises such as Salesforce, Microsoft, Akamai, and Pluralsight to power their precision on-demand marketing strategies. Today, Integrate's demand acceleration platform helps create more accurate and personalized shopping experiences that reach the right buyer with the right message at the right time in their buying journey and, ultimately convert more leads into revenue. For more information, please visit http://www.integrate.com or follow us on LinkedIn, Facebook, Twitter and instagram.
About the B2B Sales and Marketing Exchange

Hosted by Demand Gen Report, the B2B trade and marketing (#B2BSMX) is a multi-day educational and networking event targeting transformational approaches to customer engagement and revenue generation for B2B organizations as they navigate today's realities. #B2BSMX will provide a platform for marketing, sales and customer success leaders with a strong focus on alignment and orchestration and is an event for every member of the revenue team.
Share the article on social networks or by e-mail:

[ad_2]
Source link